About Concrete Cornhole Set
Each Cornhole set is crafted from reinforced concrete and is regulation size. Concrete cornhole plays similar play to traditional wooden sets the only difference is concrete is designed to be left outside all year round. Our team works directly with each client to create a concrete corn hole set that is unique to your destination.
Fiber reinforced cornhole sets are made using an integral coloring technique meaning the color is mixed throughout the concrete.
The fun starts right away with the design stage and continues when the concrete cornhole set makes its way to into your community where friends and family members can enjoy decades fun!
Process for Concrete Cornhole Sets
Step 1: Get a free estimate
E-mail your delivery address along with quantity of sets to nick@parkpong.com for a free estimate, or visit our free estimate page to tell us about your project
Step 2: Choose your color
Black Oxide, Natural Brown, Yellow, Green
Step 4: Place Order
E-mail nick@parkpong .com your color selection along with quantites and we will start creating your order.
Step 5: Consider our lead time
Our manufacturing facility has rapid turnaround and we are accustomed to meeting tight deadlines. They typical lead time is 4-6 weeks, but can decrease or increase depending on current work load, and time of year.
Step 6: Delivery
We deliver throughout the United States and into Canada. To ensure we meet your specifications, we have network of freight companies that ship orders quickly and on time.
Step 8: Enjoy your concrete cornhole sets!
Start enjoying tons of concrete fun
If you would like to talk to one of our team member at park pong about your project, we would greatly appreciate the opportunity. Please give us a call at (715)-459-6859, e-mail us at nick@parkpong.com, or request your free estimate today. We look forward to connecting with you!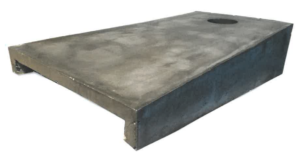 Where can you find Park Pong tables and concrete corn hole sets?
Parks
Schools
College Campuses
Sporting Destinations
Country Clubs
Resorts
Retirement Communities
Backyards
Military Facilities